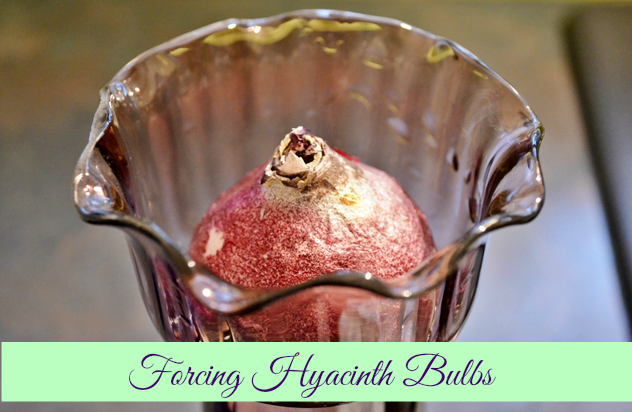 Hi everyone! I'm Jane from Cottage of the Crossroads, and I'm here today to show you my latest adventure in gardening. I'm "forcing" hyacinth bulbs to grow in water so that I'll have something blooming in the house during those cold, dreary days in January.
This interest in forcing bulbs all came about when I went to the garage sale of a good friend of mine. I spotted these 3 gorgeous vases and I knew immediately that these were vases specifically designed as forcing vases.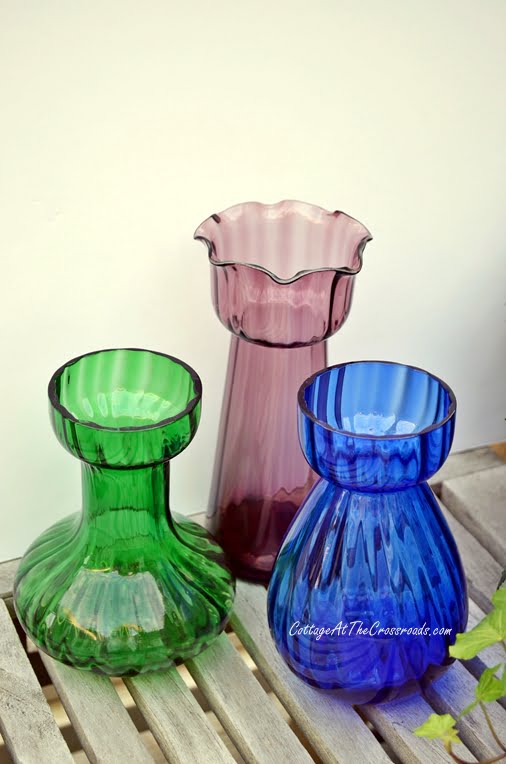 The narrow neck allows the bulb to sit directly above water in the vase but not fall down in the water. So, as a gardener, I'm always looking for new challenges so I bought the vases and began researching the procedure for forcing bulbs. After reading several articles such as Forcing Hyacinth Bulbs the Old Fashioned Way by Heather from the blog New House New Home New Life, I was ready to purchase my bulbs and give this a try.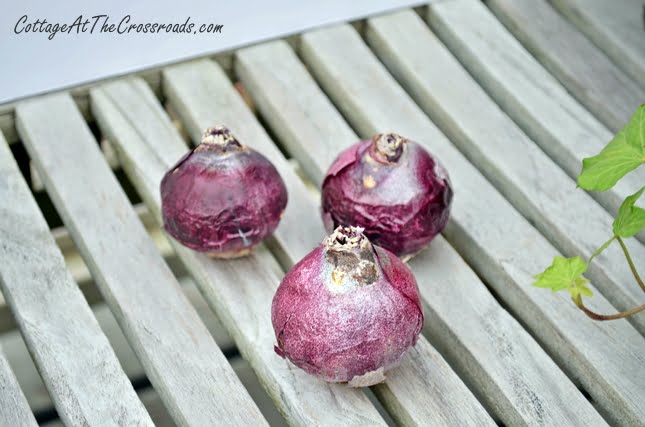 So off I went to my favorite garden center to purchase some bulbs. I knew that the first important question was to ask if the bulbs had been prechilled, and these had not. If the bulbs had already gone through a chilly period, then the process of forcing the bulbs would be shorter. But that's ok. January is a long way off and that's when I want the bulbs to bloom. I selected two blue hyacinths and one pink one. They do come in white, but the garden center didn't have any of those. I only purchased 3 bulbs because I have 3 vases, but I did notice that my garden center did have some plain forcing vases. And come to think about it, I probably have some vases at home that would work as well.
After digging around in the box of bulbs to select the ones I wanted, I wandered around the garden center for a while. And then I noticed that my neck was itching terribly! It was only then that I remembered reading about how some people are sensitive to an acid that is present in the bulbs. So I will wear gloves when handling the bulbs from now on.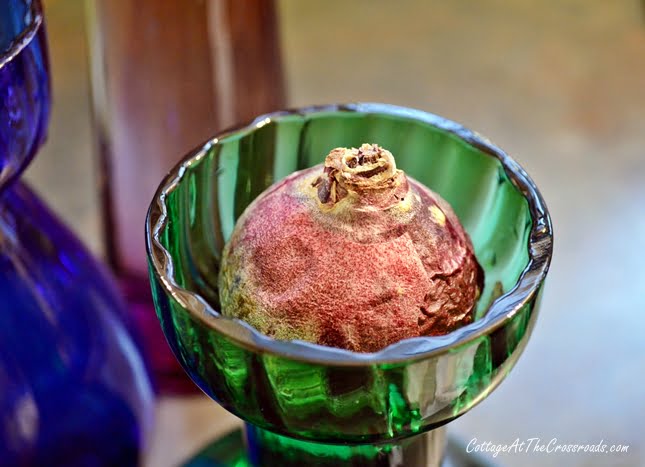 After getting home, I filled the vases with water up to the point where the bulbs were sitting above the water but not in the water. I have read that the roots will reach down to the water. And as the roots develop, I will need to change the water when it becomes murky.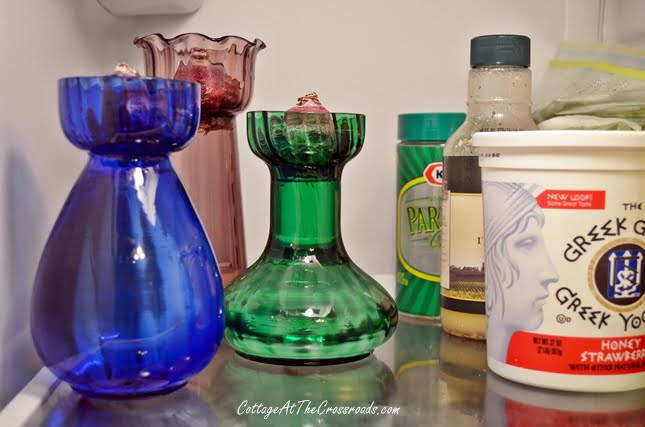 The next step is to put the bulbs in a cool, dark place where the temperature is around 40 degrees. And what better place would that be but in my refrigerator! There they will stay until the roots develop and there is a little growth of green at the top of the bulbs. Then I will need to transition the bulbs to a cool area with subdued light for about 7 to 10 days. After then I can move them to an area that has bright but indirect light which will be my kitchen windowsill.
I can hardly wait to have these fragrant and showy flowers blooming in the middle of January since this process should take approximately 12-13 weeks. And don't forget, if you purchase prechilled bulbs, you'll have your flowers in about half that time.
As always, it was wonderful guest posting here at Live Creatively Inspired. If you'd like to see more of our gardening posts, you can visit Cottage at the Crossroads, or follow along on our Facebook page.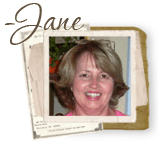 //