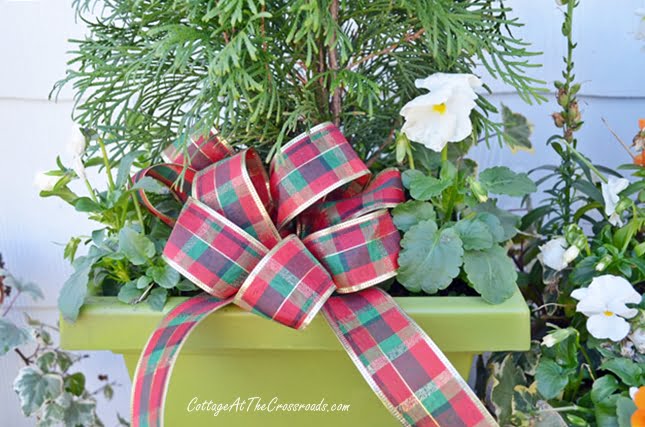 Christmas is almost here and if you still have a few people on your gift list that you are stumped as to what to get them, then I'd like to suggest a potted living tree. I'm Jane from Cottage at the Crossroads and I bring you some gardening ideas each month here at Live Creatively Inspired. Hardy cedars and cypresses will make great indoor plants for a few months and can then be transplanted outdoors in the early spring. They make great, last minute gifts that will keep on giving long after the holidays are over.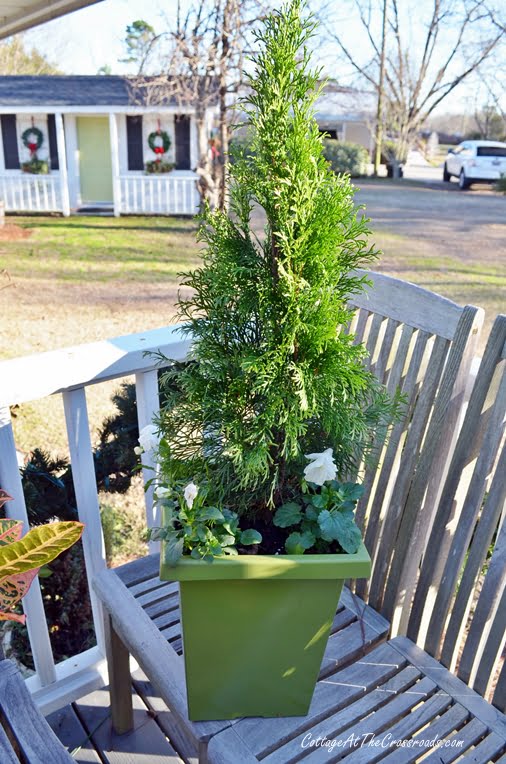 Here is a cedar tree that I purchased in October from Lowe's for $6. 99. I repotted it in this plastic container that I spray painted a pretty shade of green. I under planted the tree with some white pansies and the tree has been thriving on our deck.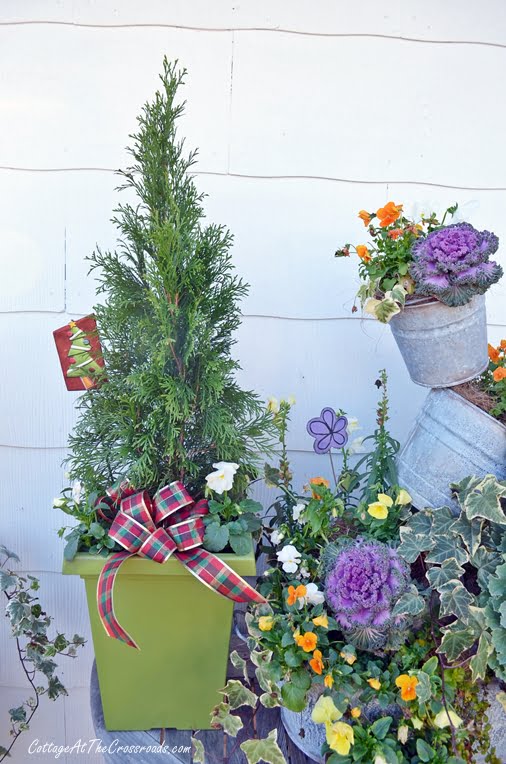 So easy to turn this into a perfect last minute gift for someone by tucking a little floral pick and a bow into the plant. A mini Christmas tree for someone who doesn't have the space, time, or patience to put up a large traditional tree or for someone who is in need of additional plants in the landscape.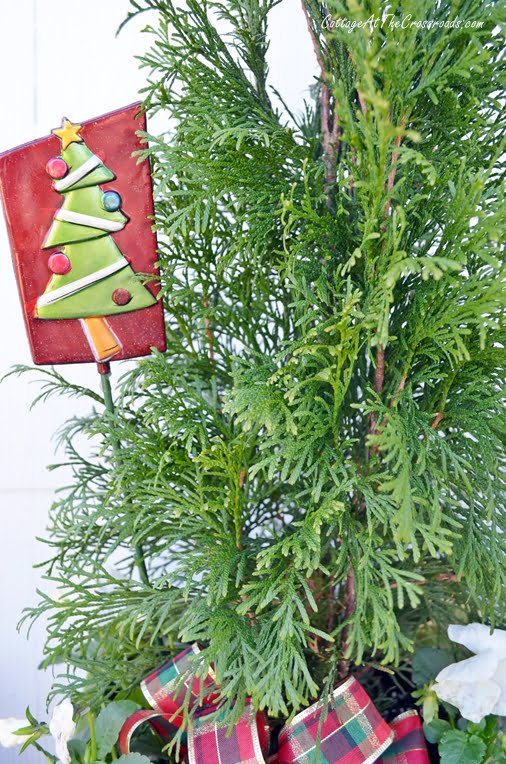 This is a gift that will keep on giving for years to come. In early spring, it can be transferred into a larger pot or urn,or it can be directly planted into the ground. I have many of these trees in our yard that started small and have grown into much larger trees in just a few years.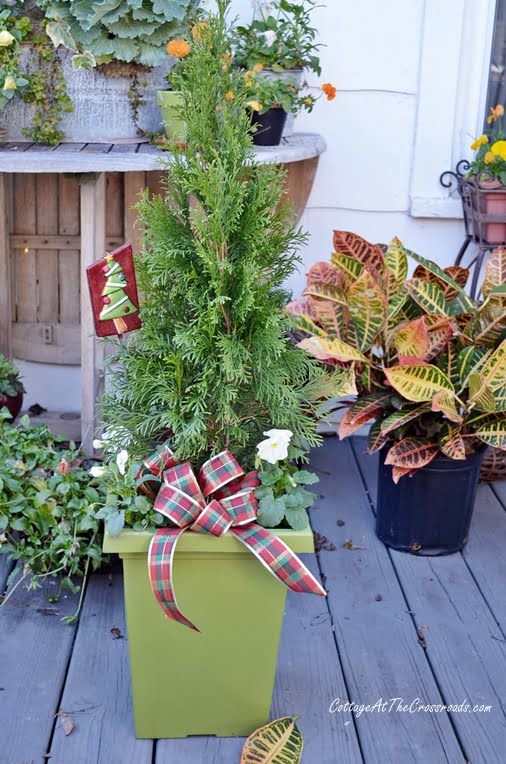 During the winter, it can be kept indoors as a house plant as long as it is located away from direct heat and the soil is kept moist. It will help filter and moisturize the air, providing a healthier indoor environment. I cannot think of a person who would not like such a "green" gift!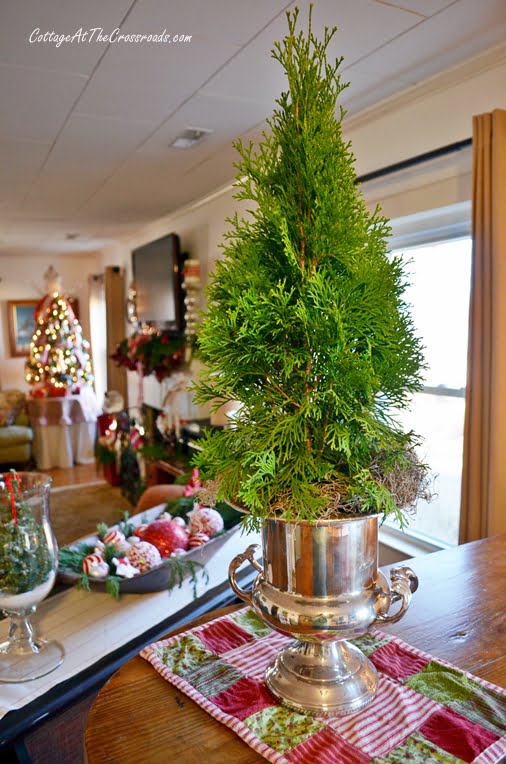 During the holidays, living trees make beautiful centerpieces for dessert or buffet tables. Here I've tucked one down into a silver wine cooler. Your gift recipient can enjoy the tree as a decorative accent during the holidays and afterward, as well.
I love to decorate with live plants at Christmas. I purchased these deer planters from a local garden center and planted them with small living trees and ivy.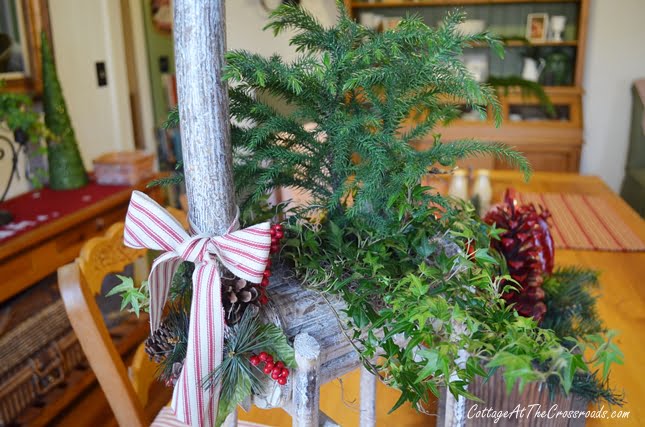 The trees and ivy planted in a unique planter would make a great gift for someone special and would be appreciated long after the holidays are over. So if you have a few last minute gifts to get, consider living trees. They are available at garden centers, or can be ordered online from places such as Amazon or ProFlowers.
For more gardening ideas, follow along on our Facebook page or visit our blog Cottage at the Crossroads. Wishing you all the joys that this season can bring!